Vinadic M&E needs to recruit a Project Manager (PM) to work in Ha Tinh.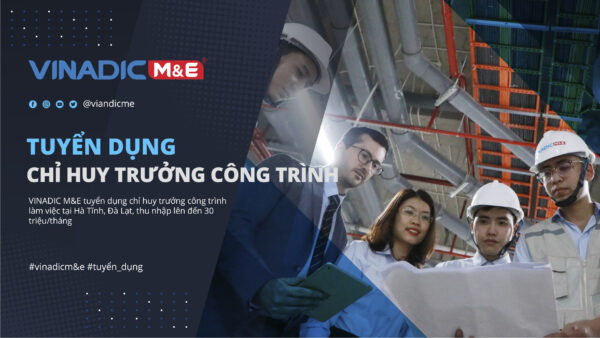 Quantity: 02.
Request
Gender: Male;
Graduated from University with a major in electricity, electronics, water supply, and drainage, construction system – University of Construction/ Polytechnic/Transport/Industry in the right major;
Knowledge of engineering systems;
Having experience as project PM from 200 billion;
Good health, honesty, high responsibility, withstand work pressure;
Proactive, able to analyze and solve problems;
Good communication and negotiation skills.
Right:
Salary negotiable: 25-30 million;
Allowances away from home: From 20-30% of salary;
Enjoy social insurance and health insurance benefits according to the company's regulations.
Job description
Mission 1
Planning, organizing, implementing, and monitoring construction progress;
Plan and control the project implementation during the construction phase, ensuring the project is implemented on schedule, with the required quality, and within the allowable budget;
Check all construction design documents of the project before submitting them to the Project Manager for approval. Ensure construction drawings meet technical, economic, and feasible requirements;
Prognosis and have a plan to deal with difficulties and risks that may occur during the construction process;
Manage, coordinate and motivate contractors and consultants to ensure work is carried out according to plan;
Safety management, fire and explosion prevention during construction, environmental sanitation inside and around the construction site;
Check the volume settlement payment documents made by the contractor.
Mission 2
Support Construction Project Manager in coordination with relevant departments;
Coordinating with specialized departments to participate in planning the overall project, developing construction plans in accordance with the approved overall schedule;
Coordinate with relevant departments to solve problems during project construction;
Coordinate with specialized departments to provide construction solutions and propose to develop advanced and effective products.
Mission 3
Assign work and guide employees;
Assign work and check the effectiveness of subordinates;
Staff training and coaching;
Instruct and ensure employees understand and apply the group's quality management processes.
Mission 4
Perform other duties as assigned by superiors.
Contact Info
Interested candidates, please send your CV by email: tuyendung.me@vinadic.vn with the title [Full name – Position applied for – Work location you want to apply for].