VINADIC is a unit specializing in the selection of special technical works in the construction industry for construction. Thanks to special imprints, VINADIC has gone further when signing contracts from foreign contractors, keeping USD for the country.
Construction of special projects, international standard flight safety to raise the national brand thương
The difficult job was also shown when VINADIC was selected as the contractor for the taxiway construction and take-off at Noi Bai airport. This is a particularly difficult item in terms of engineering that only the Aviation Construction Corporation (ACC) – a state-owned enterprise under the Ministry of National Defense was allowed to build. But so far, VINADIC – AMACCAO has been trusted for construction.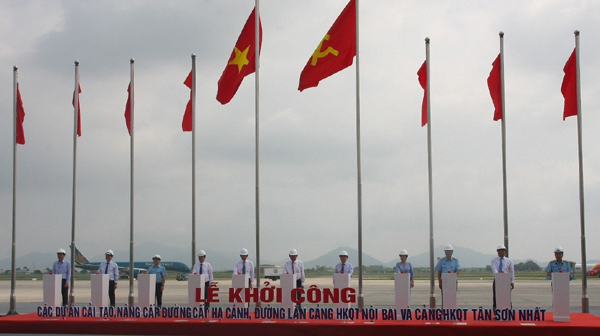 Especially, since October 2019, VINADIC has participated in the first subway project in Vietnam. The package of Tunnels and Underground Stations under Nhon Railway Project – Hanoi Railway Station by Hyundai E&C Group (Korea), HGU (Italy) is the general contractor. AMACCAO is the product supplier to implement this bidding package.
In addition, VINADIC has also built the largest gymnasium in Vietnam, Ha Nam Gymnasium, with assembly techniques from 100% precast concrete products…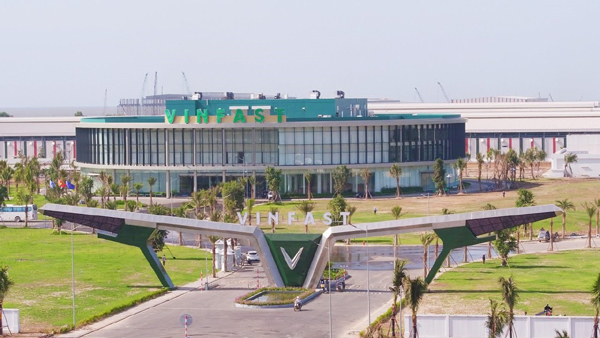 VINADIC also constructs golf courses for big brands such as VinGroup (Vu Yen Golf Course), BRG (constructs drainage pipes for Legend Hill golf course)…, deploys hydroelectric projects, and constructs tunnels. large in the rocky mountains in Lai Chau. VINADIC is the first general contractor for the construction of the first waste power plant project with a cost of approximately VND 4000 billion in Vietnam, undertaking the construction for Seraphin Green Environment Technology Joint Stock Company. Especially, VINADIC (AMACCAO) has received the general contractor to execute most of the construction projects combined with factory assembly and prefabricated concrete for Samsung Group such as Samsung E&C, Samsung Engineering Vietnam, Samsung Thai Nguyen, Samsung Bac Ninh. .
With the question "Doing such special and special projects is highly effective? Mr. Vu Van Ngoc said: With the projects we have experience, such as infrastructure, irrigation, it is effective. However, the packages of stations, underground tunnels… are new projects, long time, technical costs, high labor, a lot of strict quality standards, having to hire more foreign experts, hire both foreign designers, domestic and foreign technical consultants and special equipment. Our company accepts low profit only 2-3% of sales, not much profit. In return, the materials and products we produce are sold into large projects. Thereby, the brand developed to the national level. On future projects, after we have experience, work efficiency will be higher, there is no need to hire foreign experts anymore."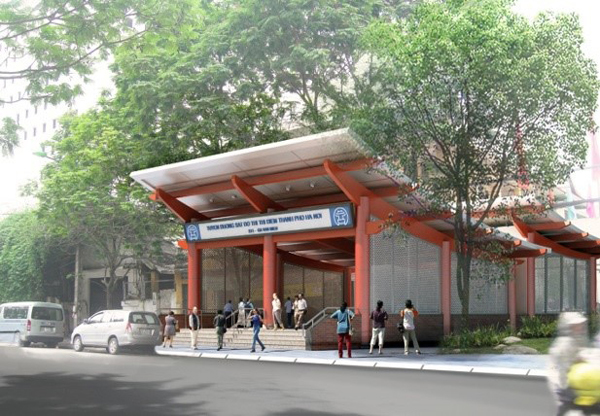 "Vietnamese investors and investors benefit from us a lot. Now they are having to hire experts from abroad, construction contractors from abroad with expensive prices. Later on, they can immediately hire us – a Vietnamese enterprise as a contractor for implementation. This saves a lot of cost, while the quality is the same, the progress is faster and the price is more reasonable. That is the goal we set when doing projects like this so that our business develops and our partners also benefit", Mr. Vu Van Ngoc shared.
Get difficult projects with special techniques, only available in Vietnam
When Vietinbank built the Vietinbank Tower project, all the large GRC fiberglass reinforced concrete panels of this project were controlled by the world's leading supervisor and architect to create the project. special for Vietinbank's work. According to the original plan, this is the item that Vietinbank uses a unit from the UK based in Hong Kong to produce GRC panels.
However, Vietnam Construction Investment Development Joint Stock Company (VINADIC) and AMACCAO Concrete Factory under AMACCAO Group found that this large GRC fiberglass reinforced concrete slab can be produced domestically. VINADIC has hired experts from the UK, purchased technology and successfully researched the production of fiberglass reinforced concrete panels (GRC for short) in Vietnam. These glass fiber reinforced concrete (GRC) panels have the advantage of self-cleaning, falling rainwater can pop out like a lotus leaf. In addition, it is iridescent like sequins and reflects sunlight to prevent heat for the house. With quality equivalent to European standard products, VINADIC has won the construction contract for this project and has now built up to the 11th floor (out of 60 floors) of Vietinbank Tower.
"These GRC panels are very beautiful," said Mr. Vu Van Ngoc – General Director of VINADIC, "Looking at them is like looking at the sculptures in the palace. We did not expect to be able to produce such difficult fiberglass reinforced concrete panels. That shows that Vietnamese enterprises are fully capable of both manufacturing and constructing this product to ensure the quality and progress required by the investor.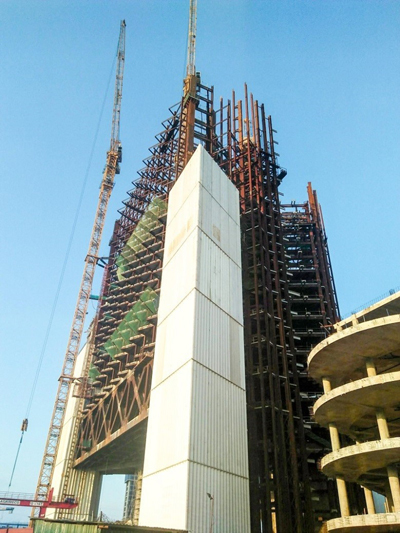 That is a story shared by Mr. Vu Van Ngoc when talking about the path of choosing difficult things to do, winning contracts from foreign contractors. That shows the growth and courage of the leaders of AMACCAO in general and VINADIC in particular.
"The view of the Chairman of AMACCAO Group is to choose the items and works that foreign investors are deploying, win back those works, retain the USD for the country, create jobs for the country. people", Mr. Vu Van Ngoc mentioned the goal that this business aims to.
Regardless of difficulties, bravery, dedication and seriousness, VINADIC is ready to cope, receive projects and items that require high technology, and must hire domestic and foreign experts. Thanks to that, VINADIC – AMACCAO has become what it is today. The manufacturing segments also follow the same path.
With the advantage of having a group leader with veteran engineers in the field of construction, fluent in foreign languages, strong and fierce, VINADIC has chosen for itself a difficult path that many people still hesitate. But that is a separate path so that today, VINADIC has built large infrastructure projects and built a name for itself in the construction industry in Vietnam.
For construction workers, conquering the difficulty of each construction is like a mountain climber, conquering one peak after another. For example, with projects like Vietinbank Tower, the assembly of large GRC fiberglass reinforced concrete panels will have to be done at a height of up to 68 floors with glass concrete blocks 10 m high, 2.5 m wide and heavy. more than 16 tons in the correct position (anchor) so that the allowed error of 1/10,000 ie 10,000 mm is only 1mm error.
"We imagine that it is difficult to install stone and glass on such high floors, how difficult is it to assemble such large GRC blocks. The contractor must hoist the GRC blocks up to the 68th floor. These products are always used for royal palaces in Saudi Arabia, the United Arab Emirates or hotels, airports in Florida, Miami (USA) Mumbai ( India) with a price of 7 million/m2 is more expensive than glass and precious stones, "said VINADIC's leader.
VINADIC (Vietnam Construction Investment Development Joint Stock Company) is a part of AMACCAO Group (a corporation specializing in the production of electrical materials (switches, sockets, aptomat, electrical cabinets, conduit) to produce pipes) water supply and drainage PPR, HPVE, uPVC, manufactures concrete materials such as piles, piles, PCs, sewers and valve materials for water industry and materials for hydroelectricity. Group, but in the first 6 months of 2020, VINADIC has signed an output of more than 3,000 billion, the total is expected to sign 7000 billion dong in 2020 with big projects.Thanks to the production advantage, VINADIC has advanced capital for main contractors, investors (when the investor and main contractors have good payment commitments, good projects, clear capital sources, payment guarantees) Besides, VINADIC is a brand name Silent construction is really a strong brand in the infrastructure construction industry of the North.