Xem thêm: VINADIC was selected to be the contractor to upgrade the runway at Noi Bai airport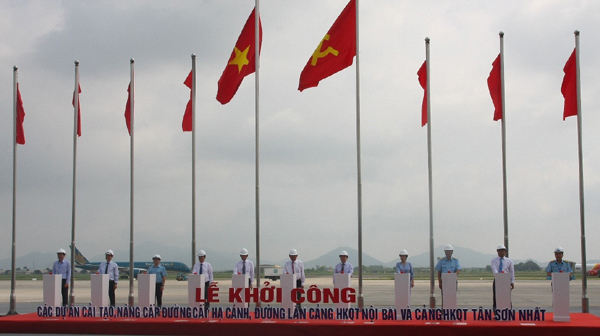 Representatives of VINADIC, Mr. Vu Van Ngoc – General Director (right) and Mr. Nguyen Hoai Giang – Deputy General Director (left) participated in the groundbreaking ceremony of the project to renovate and upgrade the runway and taxiway. Noi Bai and Tan Son Nhat international airports
At the ceremony, Deputy Prime Minister Truong Hoa Binh affirmed that it is urgent to upgrade and renovate Noi Bai and Tan Son Nhat runways and taxiways; After upgrading and renovating, it will be able to meet the new generation aircraft payload, ensure operation safety and the operating demand can reach 44 million passengers/year for Noi Bai airport and 50 million passengers. passengers/year for Tan Son Nhat airport.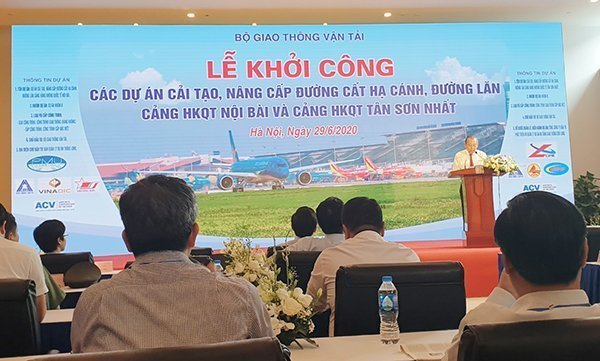 Standing Deputy Prime Minister Truong Hoa Binh issues an order to start construction of 2 projects to upgrade and renovate Noi Bai and Tan Son Nhat runways.
With the characteristics of both exploitation and construction, the Deputy Prime Minister requested the Ministry of Transport to direct construction units to operate scientific flight operations, ensure safety and security, calculate backup plans in case of emergency. emergency situations. The contractor must apply modern scientific methods, develop a reasonable construction plan to ensure quality, time schedule, prevent loss, negative waste.
Established in 2001, Vietnam Construction Investment Development Joint Stock Company (VINADIC) has so far become one of the leading enterprises in the construction industry. VINADIC is considered a pioneer enterprise in applying the latest and most advanced technology solutions, shortening the construction process, ensuring the progress and quality of the works, satisfying all customers – partners . With a background of experience, quality, responsibility and progress, VINADIC certainly ensures all requirements set forth in the project of upgrading and renovating the runway at Noi Bai international airport.