The parallelism between the two factors of speed and quality has been creating the sustainability and prestige of the VINADIC brand, helping large investors and customers trust and believe absolutely.
As the society is as the society is growing at a dramatic pace with a faster pace, being an single member company has become our competitive advantages. We are autonomous, therfore, surely outperform any state owned company in term of speed requirement. This creates the "NOW AND ALWAYS" service for customers in every aspect.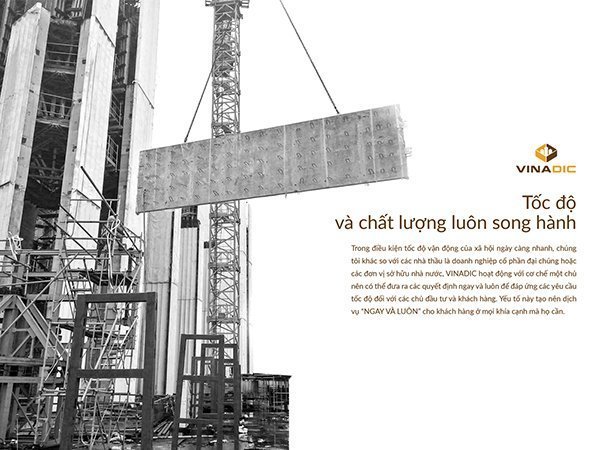 Besides, quality is always the top factor that VINADIC is aiming for. From different technology solutions, quality building materials to experienced staff, all have made the quality brand of VINADIC that any big investor, from Samsung, Hyundai, Vietinbank, Vingroup, Sungroup, FLC Group, BRG Group, Hateco Group, Vietracimex, Geleximco… all acknowledge and appreciate that.
Proof of quality and speed is the presence of VINADIC in many of the big projects of the above investors, such as: Quang Ninh Van Don International Airport, Nhon Railway Line – Hanoi Station, Vietinbank Tower, Vinhomes Marina Hai Phong, The manor center park, Vinhomes Dragon Bay Ha Long, Samsung Garage, Vinfast Hai Phong Automobile Factory, Vincity Ocean Park Gia Lam, Vinhomes Green Bay, Vinhomes Riverside, Vincity Sportia, Hateco Hoang Mai, Ocean Park – Ha Long, Vu Yen Hai Phong Golf Course, Legend Hill Soc Son Golf Course, FLC Ha Long Golf Course…