Recently, Vietnam Construction Investment Development Joint Stock Company (VINADIC) has continuously received construction contracts for large and national key projects. One of the reasons why VINADIC is "pleasing" to investors is the policy that VINADIC is ready to advance construction capital.
Vinadic to support capital – develop together, for common prosperity
In the current difficult context, supporting each other like the way VINADIC and AMACCAO are doing is something that not everyone can do, demonstrating the responsibility of a corporation to investors and to the country. The way VINADIC and AMACCAO are choosing is also the direction implemented by world leading enterprises such as Hyundai, Samsung, and Sumitomo. They are ready to support capital advance for investors so that projects can be implemented, stimulating consumer demand. This is also a move to respond to the call of the Government and ministries for Vietnamese businesses to join hands to overcome difficult times, to develop together.
Continuously participating in the most important projects of the country such as Van Don International Airport Contractor, main contractor of Noi Bai Airport's take-off and runway renovation project, Metro Metro project contractor. Hanoi (Line 1)… has affirmed the prestige of VINADIC in the construction industry. But to get to where it is today, the team of more than 3,000 AMACCAO people (including VINADIC) have silently contributed their sweat, effort and wisdom on the construction sites, year after year.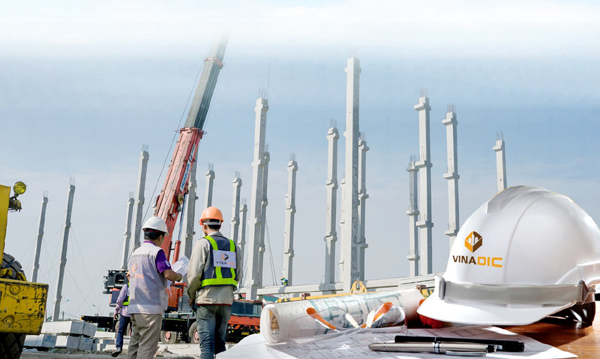 Motto: "Sustainable development associated with modern, professional and humane values", products and services of VINADIC have taken this business further and further, becoming a reliable choice of many people. big partner. Becoming a contractor for the construction of items at Noi Bai airport and a series of large projects as mentioned above has said a lot about the capacity of this unit. Growing up with strength, reaching out with quality, VINADIC in particular, AMACCAO in general are constantly affirming their position as a responsible and capable corporation.
Vu Van Ngoc – General Director of VINADIC said: We are a unit of AMACCAO group – a corporation with strengths in production. Each year, the value of products used for buildings and infrastructure produced by AMACCAO is up to VND 5,000 – 7,000 billion. Therefore, we are very eager to promote our products to large projects, modern, high-end projects with architectural highlights. Therefore, in addition to revenue growth, we also want to focus on promoting the brand so that investors know and choose us as the most reliable choice.
Talking more about this policy, Mr. Vu Van Ngoc – General Director of VINADIC confided: "We are chosen by large investors and international contractors as their construction contractors. In addition to reputation and quality, ensuring progress, construction safety and professionalism of the business, during the first 6 months of the year, due to the complicated situation of the COVID-19 epidemic, many investors also With budget deficit, undisbursed bank loans, we also paid out nearly 2,000 billion VND to investors. For construction, we pay approximately 2,000 billion VND to investors and contractors during difficult times so that both parties can benefit, even though they will still pay part of the loan interest. However, we also choose good investors, good projects, liquidity and guarantee to ensure finance."
"Recent big projects such as hydropower, garbage power, infrastructure for domestic and foreign companies are also trusted and we have signed contracts to execute these projects with an output of about 7,000 billion by the end of the year. 2020. These are all projects that require quality, progress and have an impact on the economic development of the country. We are very grateful to the investors for trusting us and we are committed to reciprocating with quality, professionalism of service and project progress," shared Mr. Vu Van Ngoc.
Talking more about the group's orientation, Mr. To Nhat – General Director of AMACCAO confided: AMACCAO has been creating its own ecosystem to produce a variety of goods to serve customers. A building can use 40% to 50% of the group's products. That's also how we save for investors. When they come to AMACCAO group, they will be assured of quality and progress, and in the input purchasing stage, we save customers time and costs.
In addition to the mind, prestige and quality are also factors that make VINADIC stand out
Recently, at Noi Bai International Airport, Deputy Prime Minister Truong Hoa Binh issued an order to start construction projects to renovate and upgrade runways and taxiways at Noi Bai and Tan Son Nhat International Airports.
Notably, the construction contractor selected to execute the project to renovate and upgrade the runway and taxiway of Noi Bai airport worth 2,000 billion VND is a joint venture of the Aviation Construction Corporation (ACC) – the company. Vietnam Construction Investment Development Joint Stock Company (VINADIC, belonging to AMACCAO Group) – Truong Son Construction Corporation).
In particular, the name VINADIC – although silent, is always known by many investors as a strong brand in the infrastructure construction industry of the North.
In addition to the above project, this enterprise has been present in many large projects over the past decades. Specifically, VINADIC was "chosen to send gold" in a series of centrifugal pile pressing and civil infrastructure projects of Vingroup such as Vinfast Factory, Vu Yen golf course, Vu Yen sea embankment, Vinhome Marina Cau Rao, etc. Vinhomes Riverside and other Vingroup infrastructure projects in Hanoi such as Vin Tay Mo, Vin Smart Hoa Lac, Vin Ocean Park Gia Lam… In addition, VINADIC also participates in large infrastructure projects such as Ocean Park. (Sun Group); airport – runways, taxiways at Van Don airport, Vietracimex's project infrastructure of nearly 200 hectares at Kim Chung – Di Trach… Traffic projects of the Ministry of Transport, departments and provinces also "named" VINADIC as a prestigious contractor.
Especially recently, VINADIC company and AMACCAO Ha Nam joint stock company signed the contract of S11 and S12 stations, the turning point of Ramp slope, segment route and the first underground station of the North worth more than 1,000 billion VND. It is these numbers that speak on behalf of VINADIC to send its declaration of quality to its partners.
Read more: