The blood, creativity, spirit of leadership, the joint venture engineer AMACCAO – IC BUILD has created a double miracle in the wind power industry in Vietnam when this unit successfully installed the largest turbine. heaviest with the shortest time on record.
Risky multi-million dollar game on the top of the mountain
Located in a region that is loyal to fossil fuels like Southeast Asia, Vietnam's wind energy market has emerged as one of the most successful examples of the renewable energy industry in recent years.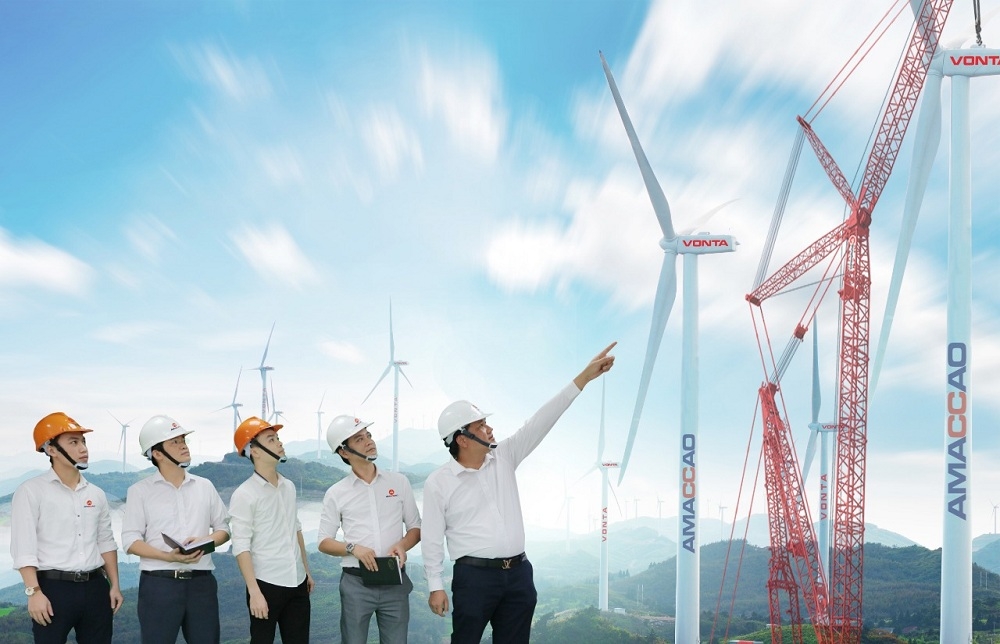 As one of the countries severely affected by climate change and possessing a geographical position and terrain suitable for green energy development, Vietnam spends a lot of effort in promoting wind power production. to create a sustainable and clean energy source, reducing emissions of greenhouse gases. This is the reason why Vietnam has launched a series of attractive policies calling for investment in the wind power industry over the past 10 years.
If in 2011, Vietnam only recorded 50 registered investment projects in the wind power industry, mainly onshore power with the highest total registered value of less than 300 million USD. projects have been completed and energized up to 106. A series of offshore wind power projects with a total value of billions of USD has been implemented, marking the presence of many international names.
Despite its advantages and conditions for development, Vietnam's wind power industry is assessed to have not yet developed to its full potential, due to the lack of human resources, infrastructure, and professionally invested companies.
According to a report of the European Wind Energy Association, of the wind power investment rate, 50% of the cost is for turbines, the rest is used for foundation construction, maintenance, construction of operating systems, transportation, and installation of equipment. . With the investment capital value of each wind power project is very large, the remaining cost outside the turbine is usually in the tens to hundreds of millions of dollars depending on the project.
However, in these costs, apart from the cost of foundation construction and simple roads, Vietnamese contractors hardly get any other source of money. Turbines are mainly ordered from international suppliers, and consultants and operators often employ foreign experts. The transportation and installation are also mostly done by foreign companies (very few names come from domestic enterprises).

The difficulty in transportation and erection comes not only from human expertise and experience but also from a lack of equipment. Since most of the land wind power projects in Vietnam are located in the South-Central region, the construction terrain is in mountain passes, steep slopes, and obstacles. It is not easy to transport and install turbine blades with a length of several tens of meters to nearly 100m, weighing hundreds of tons/01 components at an altitude of over 100m without a scaffolding, a working platform is not easy, it requires a system crane installed super-heavyweight.
The high crane weighing up to 800 tons (approximately worth up to 100 billion VND each), the 170m long boom is also a multi-million dollar game, an obstacle for any company that wants to invest to become a contractor installation professional wind power.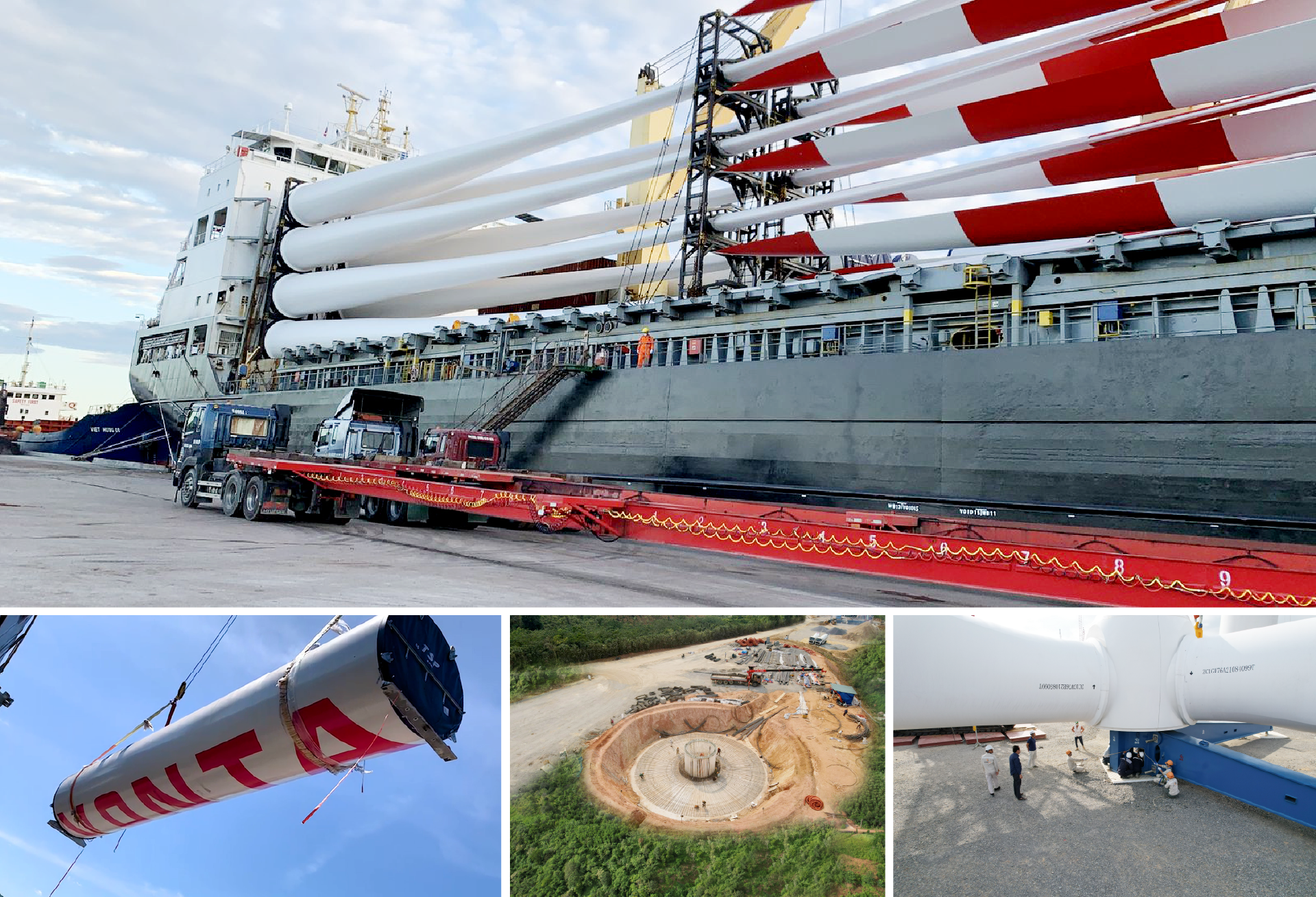 However, all these difficulties could not stop AMACCAO – IC BUILD – Joint venture between AMACCAO Joint Stock Company (a company specializing in manufacturing and installing components of AMACCAO Group) and JSC Indochina Build section. Both of these companies are member companies of Vietnam's AMACCAO multi-industry group.
Seizing the opportunity and to become the leading joint venture contractor for the construction and erection of wind power projects in Vietnam, AMACCAO – IC BUILD has boldly invested nearly 400 billion VND to purchase 2 complexes. Crane 800 tons (value up to 100 billion VND per combination) and crane complexes 300, 200, 150 tons, with a system of super-long and super-heavy vehicles.
From here, the first miracles performed in Vietnam have registered the name AMACCAO – IC BUILD – "sniper marksman" in the Vietnamese wind power industry.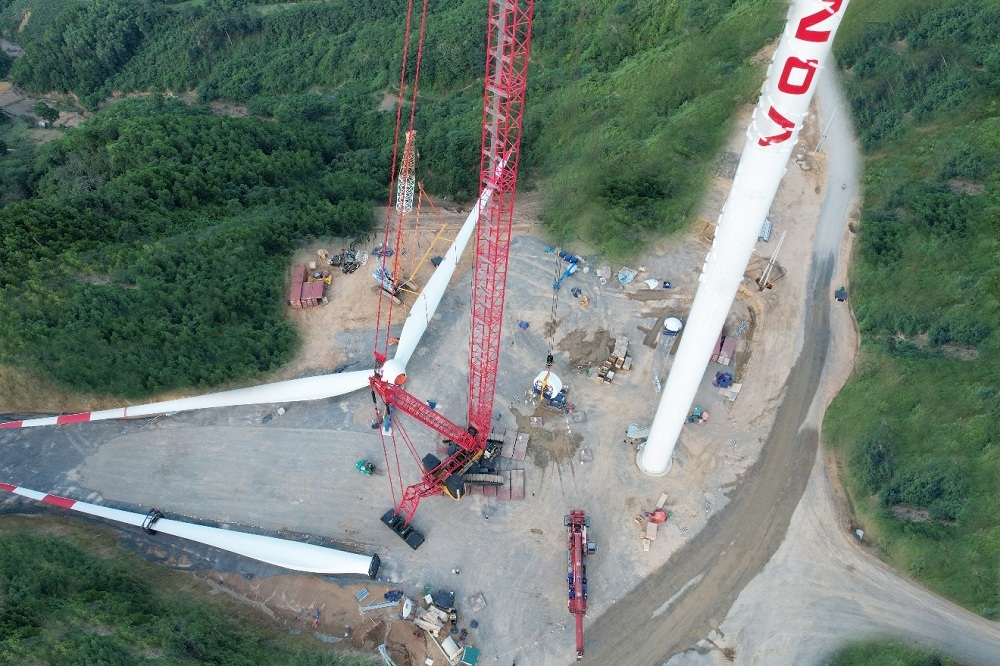 The double miracle of marksmanship in the wind power industry
As a new name in the market of construction and erection contractors for wind power projects in Vietnam, but AMACCAO – IC BUILD has the advantage of experience in assembling super-heavy reinforced concrete components in construction projects. building the tallest high-rise building in Vietnam up to 40, 68 floors. Therefore, when deciding to spend tens of millions of USD to invest in construction and installation equipment to participate in the green energy industry, specifically with wind power, experts and engineers of AMACCAO – IC BUILD quickly master new technology, with world-leading processes and technical requirements.
The first result came right in 2021 when the AMACCAO – IC BUILD consortium embarked on implementing 02 VONTA wind power plants with a total investment value of up to VND 3,900 billion owned by Khe Sanh Wind Power Joint Stock Company. investment. In addition, this consortium signed two new projects with a total amount of more than 600 billion VND.
The above projects are located in Tan Lien and Huong Loc, Huong Hoa district, Quang Tri province, both are border highland communes of this province, the terrain is divided by mountains and rivers, making it difficult to transport and install.
Initial success with these projects has put AMACCAO – IC BUILD on the list of rare Vietnamese contractors who can perform wind power installation contracts and quickly gain the trust of many domestic and foreign investors.
The latest miracle of AMACCAO – IC BUILD is the general contractor for infrastructure construction and successful installation of the largest turbine in Vietnam in terms of capacity from Goldwind with the highest height in Vietnam (up to 135m), The longest wingspan in Vietnam (each wingspan is up to 78m), the heaviest in Vietnam (combination of 01 crane code for 3 wings and the Hub weighs 118 tons and approximately 160m in diameter) and the most difficult to erect of all types of turbines being applied in Vietnam.
Compared with common turbines in Vietnam, usually, only about 100-110m high, with a wingspan of just over 60m, weighing 60-70 tons, AMACCAO – IC BUILD is completely superior in its ability to master super-weight constructions with the highest difficulty and weight.
Not only that, but the creativity of AMACCAO – IC BUILD people also created an unbelievable double miracle in the speed of erection. Accordingly, the normal assembly speed of foreign contractors today is 10-12 days/turbine, but with AMACCAO – IC BUILD, the number is shortened to only 6-7 days/turbine. If not counting the time to transport and disassemble the super-heavy crane from one turbine to another, each AMACCAO – IC BUILD turbine takes only 3-4 days to install – a number that makes foreign experts in the Top 2 The world's largest turbine manufacturer was also amazed.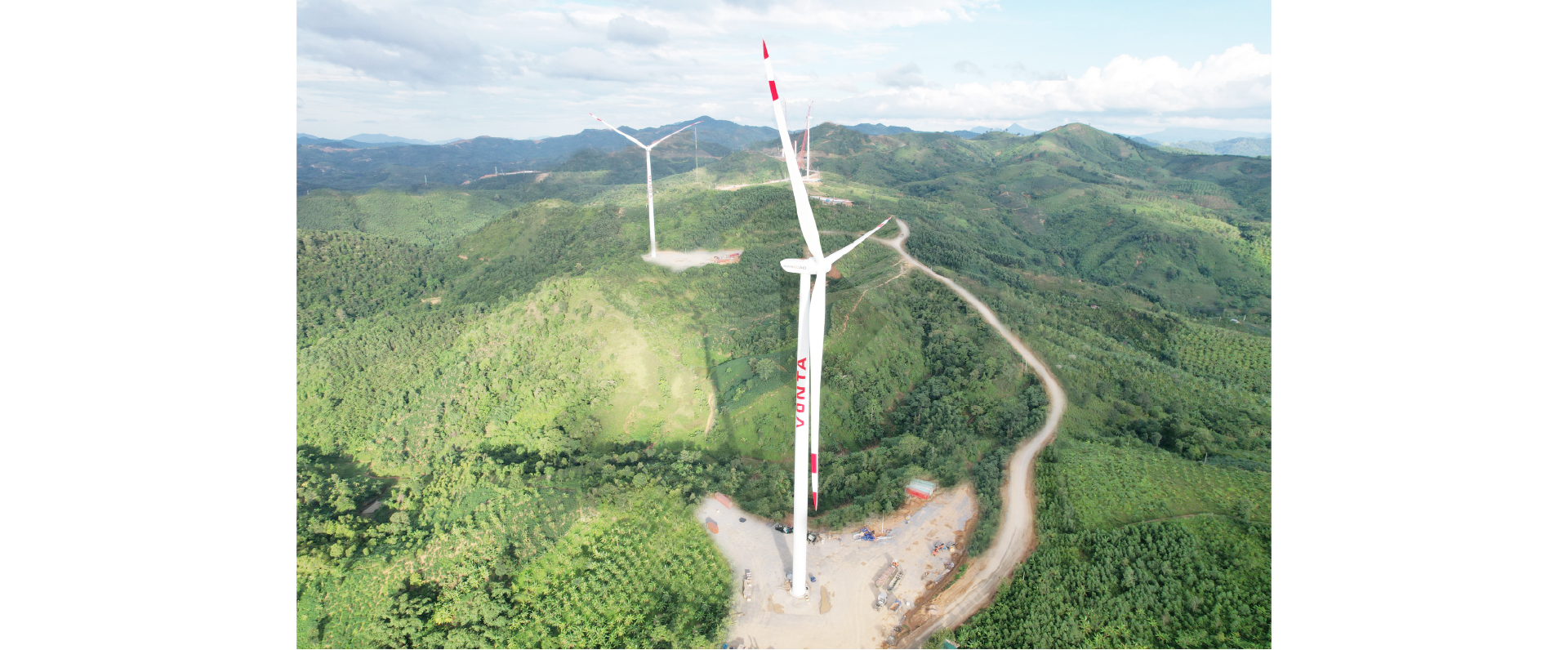 The wind power installation techniques of foreign contractors are decades ahead of Vietnam. Therefore, to be able to be creative in technique and operate from normal standards requires the hard work, research, intelligence, and blood of all leaders as well as engineers and workers of the AMACCAO consortium – IC BUILD. It is unbelievable that they can do this double miracle after only 1 month of construction.
It is the creativity based on high discipline, absolute precision, and seriousness 24/7 in the implementation of AMACCAO – IC BUILD that has brought great benefits to project investors when the cost per day Deployed construction but delayed the damage up to billions of dong.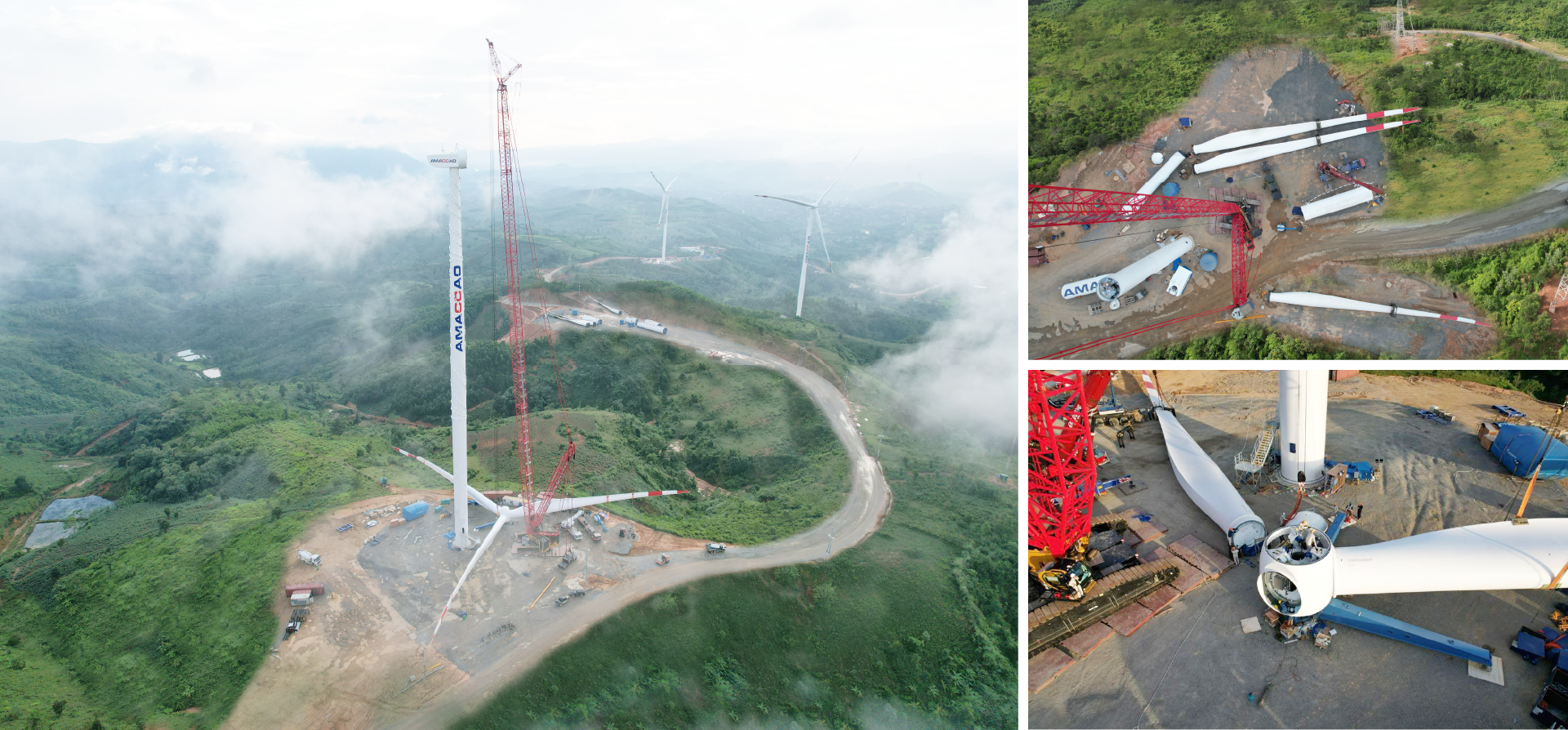 Talking to Mr. Vu Van Ngoc – General Director of AMACCAO – IC BUILD Joint Venture, he said that many years of experience and advantages in the installation of pre-assembled buildings, the tallest, heaviest, and largest projects Vietnam has provided a good start for this consortium. However, to achieve a double miracle with the wind power industry, it is impossible not to mention the efforts of AMACCAO engineers.

"We have the advantage of a large equipment array, with the rolling and blood of AMACCAO engineers, so we have made efforts to accelerate the speed, which is highly appreciated by investors and foreign experts. They also compare us to install faster than the leading marksman contractors abroad as well as in the world. All are very impressed with the speed, technique, and especially the control of labor safety during the installation process of the contractor AMACCAO – IC BUILD.
However, we find that we still have to be humble and put in a lot of effort, and continue to improve this erection technology. With the advantage of equipment and people, we aim to be the number 1 contractor, truly professional in this field to devote to investors and wind power projects across Vietnam.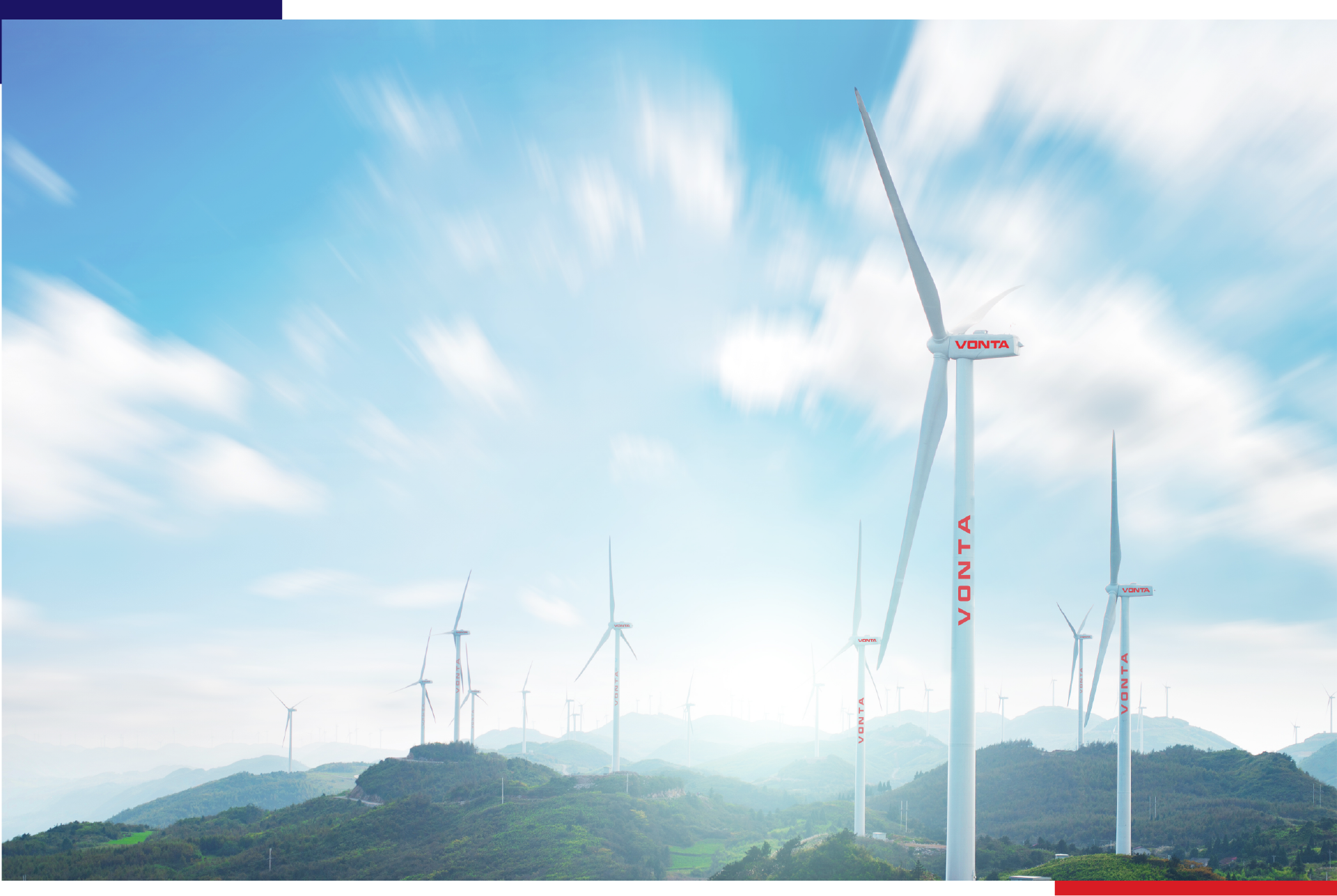 With the creative and passionate way of AMACCAO people, the path that this Group has determined has and will go is to become a domestic exporter, replacing international names. This is also the policy of the whole AMACCAO Group as said by the General Director of AMACCAO, the Group will carry out these activities with the desire to bring good values ​​to the community and the whole society, so that the works of people Viet no longer has to depend on foreign contractors, looking for dollars right on Vietnamese land, as well as keeping dollars for the S-shaped land.