In the bookcase of Entrepreneur – Dr. To Nhat, Vice Chairman of the Board of Directors, and General Director of  AMACCAO  Corporation, in addition to the famous set of 3 books by Jim Collins are Great by Choice, From Good to Great, Built to Be There are quite a few books on human development. Many of these books have plastic bags wrapped around them to give to the guests he loves, Nhat explained.
One of his two dreams, besides being an entrepreneur, is also an educator, so he loves books. Surprisingly, he is not only a book lover, but he is also the author of "100 golden keys for CEOs & business owners".
During the conversation with reporter Dan Tri, Mr. Nhat passionately talked about AMACCAO, about AMACCAO's journey of reaching out from a leased space of a small restaurant in the poor land of Dong Anh (Hanoi) 26 years ago. multi-industry corporation, from a small company with 40 employees to a large corporation with nearly 4,000 employees. In particular, AMACCAO is also a partner of a series of big names such as Hyundai, and Samsung… in Vietnam.
The best of the best
Hearing the name AMACCAO corporation, anyone who does not know will think it is a foreign corporation or a certain FDI enterprise. So what does the name AMACCAO mean, sir?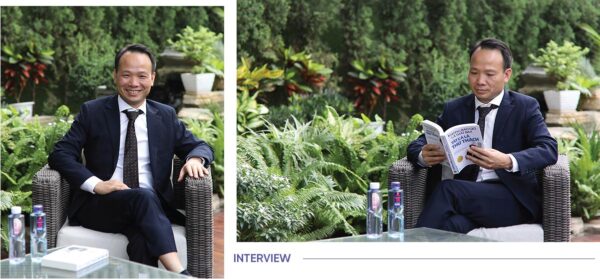 AMACCAO was not originally named AMACCAO. In the early stages of setting up a business, my brother (Mr. To Van Nam – Chairman of the Board of Directors of AMACCAO) named the company Vietnam Construction Investment Development Joint Stock Company because he wanted to focus on the field of investment and construction. building and orienting as an enterprise to contribute to the development of Vietnam. About a decade ago, we started seeing an opportunity to internationalize our business, so we thought about changing our name.
First, the new name must be international in nature, short, easy to call, and can be read by anyone.
Secondly, AMACCAO came from the construction industry and later developed into industrial production, energy, environment, and education… In the construction industry, "maccao" means high quality. Just say high-grade steel, high-grade cement, high-grade bricks… are default high-quality. Already high quality (high grade), and A means "the best of the best".
We named the company so are also aiming for that.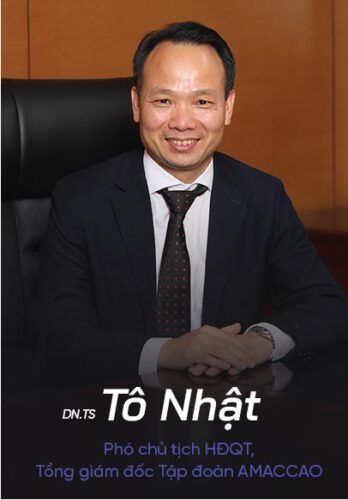 In addition, the naming is also for marketing purposes. In the digital economy, people look up a lot, but the letter A is prioritized on devices. With that in mind, we changed the company name to AMACCAO.
Who came up with this name and chose from how many options?
AMACCAO was devised by the Chairman of the Board of Directors. At that time, it was true that there were also a number of options such as Avina, AvinaA, and AMACCAO … AvinaA was also the name of our winery at that time. But in the end, the AMACCAO option was chosen for the following reasons: easy to remember, easy to read but meaningful, and suitable to aim for global values.
So how is AMACCAO's international target achieved?
Currently, AMACCAO exports centrifugal piles to Taiwan, production is not enough to sell. As far as I know, we are the only Vietnamese company that can export this type of pile to the Taiwan market. Of course, there are also enterprises exporting this product in Vietnam, but it is a joint venture.
Or AMACCAO's 3A purified water is also available in Singapore and some Asia Pacific countries. Plastic pipes EuroPipe are also exported to Laos, Cambodia, and Australia… Copper threaded valve products are being exported to Korea, India, Japan, the UK, and the USA…
AMACCAO also exports locally, providing substitutes for imports. AMACCAO's customers have huge names such as Tokyu, Sumitomo, Taisei, Hyundai, Samsung, Lotte, and Daewoo…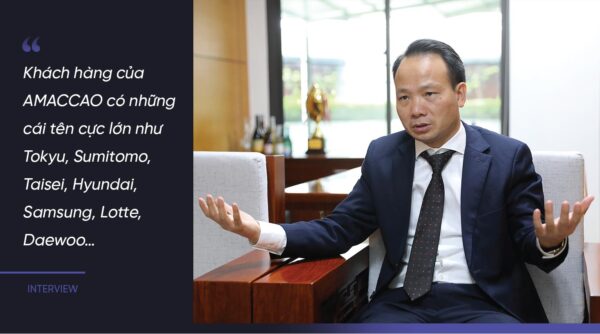 Our company is a pure Vietnamese company, but in the team, there are also many foreign experts. Currently, Covid-19 has broken out, so the number of foreign experts is less, but there was a time when there were 40-50 experts. Actually, when there are many foreign experts, there are also people who think AMACCAO is a foreign company. But I don't think there's any classification, don't frame the thought that only Europeans or Americans can make European and American-quality things.
Vietnam is also full of people who can do it, just look at billionaires Pham Nhat Vuong, Nguyen Dang Quang, or Nguyen Thi Phuong Thao…
And when we talk about the international story at AMACCAO, one is exporting, the other is exporting goods, selling to foreign companies working in Vietnam and I still call it "exporting on the spot".
From 40 to 4000
AMACCAO operates in many industries, is an industrial production group, trading in construction materials, infrastructure equipment to bottled water, alcohol, and plastic packaging; to education, training, real estate investment, environment, and clean energy… Getting the above huge property must not be easy. So how were the first years of your brothers' business?
I will never forget the early days when my brother started AMACCAO. It was 1995, I was still in college. My brother rented the premises, which was the site of a small restaurant on Highway 3 in Dong Anh, Hanoi to start a business. His friend also wore shorts and a work shirt. Until 2001, the company still had to rent such space to work. I will never forget those years. My brother, in the early stages, almost "hugs" everything, and is literally a small business owner. In the morning, I woke up at 6 am, worked until 22-23 pm, and went to receive guests sometimes until 1 am the next morning, extremely hard.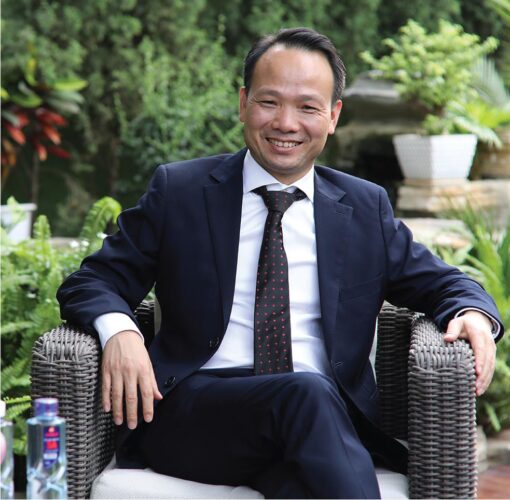 During the first 10 years, the company chose to do rural infrastructure in the style of country roads, ditches and drainage ditches, etc. Why choose this industry to do it? Actually, it's not a big deal, it's because the business is big, people don't do it, and don't pay attention. My brother studied at the University of Civil Engineering and received formal training, so he started a business like that. In the first 10 years, the company had 40 employees and focused only on the construction industry.
Later, he also managed, and the company grew more tired, and worried, and did not have time to spend with himself and his family. I was studying in England at the time when he called to work with me.
Does that mean it was not until 2008 that he started participating in AMACCAO? Why not from the beginning?
I graduated from university, then I studied for an MBA in Bangkok, Thailand, then returned to the National Economics University to teach for a while, and then went on to study for a doctorate in the UK. I've always had a dream of becoming an entrepreneur, so when my brother told me "Go home", in 2005, I researched my brother's company and officially started operating in 2008.
When returning, AMACCAO opens new arrays. From the initial 40 employees, up to now, the group has nearly 4,000 employees. The system is also automated, building units according to the principle of financial autonomy and the corporation model. The two brothers get along quite well. A bold person in investment, with high vision and practicality. The other is well-trained and has a good management system.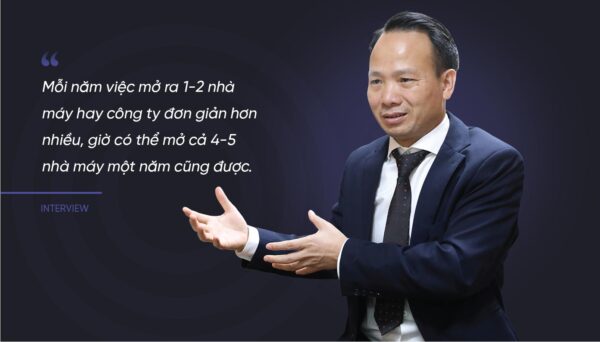 15 years old doing business, 2 failed startups
He once shared that no one was born knowing how to do business and build a business. So, how did To Nhat become an entrepreneur?
My house is crowded with brothers and sisters, but 7 people. Because of the large number of children, there were periods when the 3 brothers went to school together, and my parents worked in the fields, and raising children was extremely hard.
When I was 15 years old, my brother and I went to trade to help support our parents. Two brothers buy wine in Dai Lam, Bac Ninh to Dong Anh, Hanoi to sell. Then later traded Binh Da firecrackers (at that time firecrackers were not banned – PV), and agricultural products from Dong Anh to markets in the inner city for sale. If you're hungry, your knees have to crawl (laughs).
Then I went to study at the National Economics University, still studying while… doing business. That year, around 1992-1994 or something, kids loved buying teddy bears, Doraemon-style characters. After that, after selling teddy bears, I sold shoes, Banh Chung… As long as I make a profit, I'll do it.
In 1995, I started a business, after saving some capital from my days of trading and borrowing more. I and 2 close friends opened the first karaoke cafe on Hao Nam street. Six months later, the shop went bankrupt. Not because we could not sell but went bankrupt because then we were all "faint chickens", and did not sign a contract with the owner of the premises. They see it, they "kick" me out, don't rent anymore, and flip the deal. So we had to close the shop, cede our stuff, and end the first large-scale business like that.
In 1999, after finishing my studies in Bangkok, a year later, in 2000, I started my second business again. This time, I opened a stationery trading company. Less than a year, the company closed again because I did not know how to manage the finances.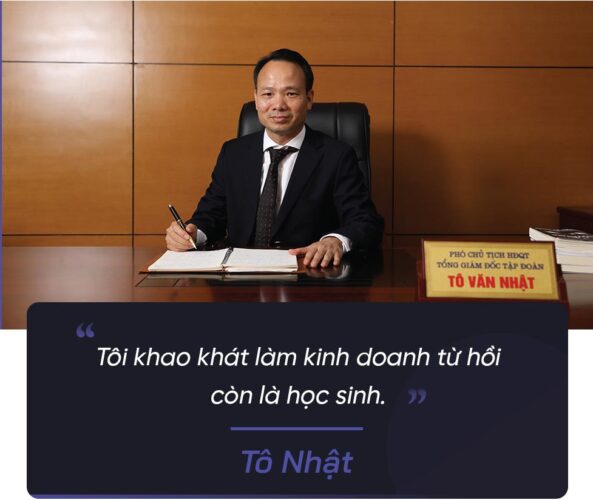 That said, I have had a desire to do business since I was a student. After so many initial failures, I realized "it's not easy to be an entrepreneur", and then I doubted myself. At that time, I copied my mouth and said "yeah, let's focus on teaching for a while", so I went to teach at the National Economics University.
But the desire to do business kept pushing. Until my Ph.D. in the UK, I studied SMEs in depth. I think like this: "a high mountain must also start from a small mound, so if you want to start a business, just start from the first steps".
I studied in the UK for 5 years, from 2003 to 2008. But in 2005, my brother called because he knew I was still interested in doing business. I went back to Vietnam, took the company's data, and told him that "it's very hard to do it this way, whatever comes to hand, it is difficult for the business to be sustainable, it is necessary to have an automation system. , Branding". My brother said very "angry", "You go back and do it".
In 2007, he called again to ask when I finished my studies. I didn't come back until 2008, At that time, I was working as a Ph.D. student and at the same time teaching at London General School (UK). He said then let's go back, you guys do the same. Later, in the AMACCAO group, I also had 3 units of my own and was in charge of the overall strategy of system building, management, and administration for the corporation.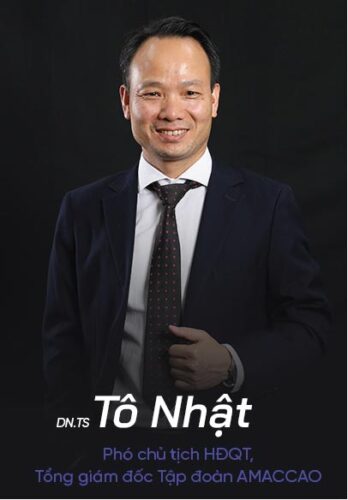 He returned home and joined AMACCAO in 2008. Not long after that, the economy faced a recession. Come back and stumble upon such difficulties, are you afraid?
I will never forget that year. The whole economy is in trouble. The borrowing interest rate is up to 24-25%/year. Many companies go bankrupt. The real estate market froze. The construction and building materials industry has a terrible impact. At that time, we had a meeting of the Board of Directors and decided that some brothers had to take Saturday and Friday off. Even so, in the most difficult time, we still kept enough for employees to work more than 5 days a week.
In addition, we have to reduce costs by not collecting depreciation to help customers and also to keep the company running. But fortunately, in 2009-2010, the company opened the real estate segment, so it also had a little financial accumulation and had a backup source. Brothers in the company also agree and unite. That helps AMACCAO to overcome the crisis smoothly.
It was also a great experience that helped us to go through 3 periods of economic crisis smoothly. In March 2020, when Covid-19 broke out, we also had experience in handling it. So in 2020, it's difficult, but AMACCAO still grows over 20%. When Tet received the bonus, everyone in the company was surprised because while many construction businesses faced difficulties, AMACCAO staff still had a salary, and Tet's bonus was not lower than in previous years.
Life is born once, what you can share should not be kept
I also heard that Mr. To Nhat has another dream, a dream about education?
When I was young, my family was very poor. Bu (mother) I am the son of an old grape, so I really like my children to study pedagogy. AMACCAO Chairman, Mr. To Van Nam, my brother, also studied pedagogy, then switched to construction. My sister-in-law is also a teacher, my wife is also a teacher. There are many teachers in my family.
When I was a child, I also thought that when I grew up I would be a teacher, to teach my children. When I was in 6th grade, I started to have my first thoughts about myself. That year, when I went to my Math teacher's house to visit him during Tet, I found that his family was very poor. My children are not successful either. I think about myself again.
Then I witnessed another teacher of mine, a Chemistry teacher. Every 4 am, the teacher goes to slaughter pigs, takes them to the market for his wife to sell, and then comes back to dress up and teach. The image of two good teachers still struggling with the economy still haunts me. I temporarily gave up my dream of becoming a teacher, determined to study economics and get rich. I did not take the entrance exam to the University of Pedagogy but also took the entrance exam for the National Economy.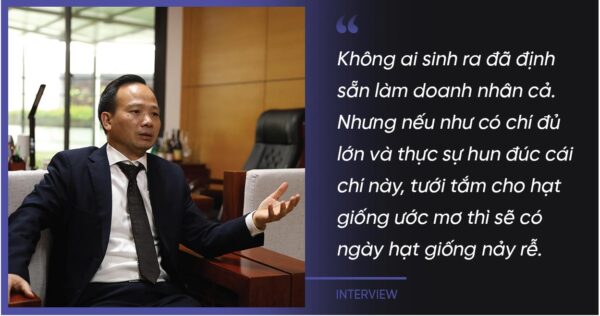 When the start-up failed, I was also very concerned, thinking forever whether I would be suitable for doing business or not. After all, no one is born destined to be an entrepreneur. But if there is big enough lice and really mold this louse, water the seed of dreams, and one day the seed will take root. And reality proves it to be true.
So being an entrepreneur or a teacher, which is more interesting?
When I studied MBA in Thailand, I was taught by some businessmen. At that time, I exclaimed, "why is this great, being taught by people who directly experience the business, full of reality". From that moment, I told myself to do something similar in the future, to succeed to share it with everyone. That dream appeared more than 20 years ago. At that time, I was so excited, I even wrote it in my notebook, and later my wife could read it.
Then I wondered how to build a private school, share it again, and create a forum for people like me to want to learn. I wish to realize how to help people get rich righteously. Honestly, startups, small and medium-sized business owners just starting out sometimes don't know who to ask. So 4 years ago, I started asking my brother "I do business, but I still like education, it can be said that I am passionate, I want to share and teach other businesses". That said, my brother also supports it. I actually say teaching, but I also only share on 2 weekends a month or a weeknight.
I see you have a Youtube channel. The channel is quite attractive with enthusiastic sharing about leadership skills and business administration. The fact that entrepreneurs have a Youtube channel seems to be quite rare in Vietnam because most Vietnamese entrepreneurs are often less open due to many reasons. Why is he so different?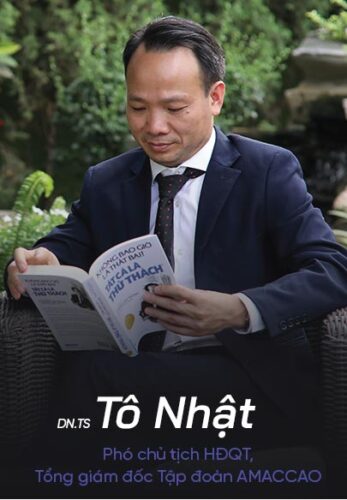 AMACCAO develops based on science. The company's philosophy is "righteous reigns, science leads", so we always look for scientific values ​​to help businesses develop sustainably. 26 years of AMACCAO being what it is today is based on the view of developing the value of human intelligence.
So I think it's better for the corporation to use the Youtube channel, to share scientific problems with a large number of people. This has both helped me realize my personal dream and created an identity for my business brand. Giving will also be received.
I also always think that each person is only born once, and can't be taken away after that, so I can share is that I share it with people who like to learn, and businesses that follow. But even if a large unit listens, we are not afraid of competition. I like to compete because it's good. In business, it is often learning from each other, we will also learn something from the opponent. If the opponent is good, I'm even better. The most fun is that after listening to my sharing, many small businesses said they shortened too much time. Having a business with a capital of nearly 200 billion, said that before going to school, Japanese teachers only had a flashlight, and even learned a car headlight… At that time, I was really happy.
His lessons mention business leadership with factors such as thinking differently, being decisive, inspiring, drawing a picture of the future, having a heart, and being kind… So 3 important factors What would be the most, according to you?
English has a saying "leader is doing the right", so first, leaders must know what is right. Wisdom, understanding, understanding the laws of nature, knowing what is right… are important things. Therefore, leaders are assertive because they know for sure that it is true, even if 99 people say no, the leader alone says yes decisively. Leadership is like that.
The Bible says, "The blind lead the blind, and they both go down into the pit". Leadership is to lead, so it is necessary to continuously study and find the right. Be strong and do it if it is right, even if the leader is very lonely. But as a leader, there is no lonely and lonely time.
The second is that leaders need to know how to inspire the team, and how to make the team work diligently, and wholeheartedly for the work, and for the common good.
The third thing is kindness. Of course, doing what is right also involves kindness. But important leadership is to lead with heart, sincerity, and love. These factors are very powerful. When I do it with all my heart, kindness, and sincerity, everything will last.
Working with family members needs to be fair and transparent
Talking about leadership, I see that AMACCAO's leadership has many people who are his relatives. Is it difficult or easy to work with relatives, what are the reasons?
In Vietnam, many small and medium enterprises are stuck and cannot develop because of this point. People in the house work together, go together from the early days, but when the business grows a bit more, if they want to recruit outsiders, the people in the house keep thinking, this and that. That makes things unprofessional.
Second, family members often bring their personal feelings to work. So it's quite difficult. When I first joined the company, I also witnessed a relative who was angry at his brother for 4 years and did not come to the house because he was scolded at the conference due to a lack of professionalism. That's why I see a problem if you keep it like that, the business will not grow, it will be difficult to attract talented people. I see the need to change. Of course, there are still large family companies in Vietnam. But if you want a family business to become large, you need a few principles: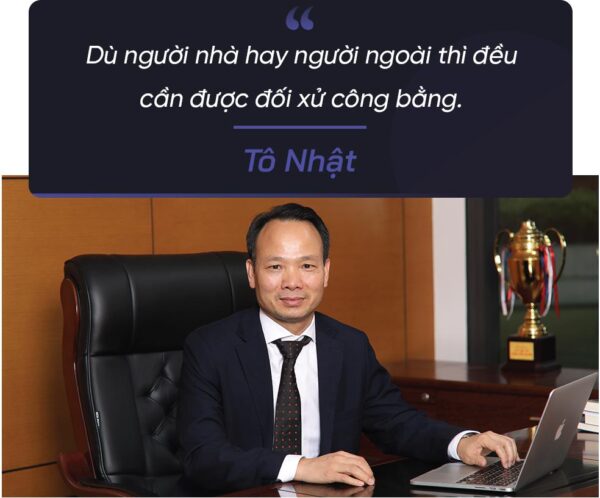 One is that family members or outsiders need to be treated fairly. To be fair, there must be rules. So about the company, it took me 3 months to develop a clear reward and punishment policy.
Secondly, for family members, especially close brothers and sisters, we need to sit together, clearly defining in the company that we must put work first, and have rankings, and a hierarchy of leaders. At home can be relatives.
It was difficult at first because people put their emotions into their work. My sister still cried and was angry, but later on, she got used to the rules. Very professional now. Or like the story of children in the family working at the company but still being fined and dismissed as usual.
In AMACCAO, not every descendant automatically gets a position or a job. But if you are good, and have both virtue and talent, your priority is natural, even if you are outside of yourself, you will also prioritize recruiting talented people. And if there is no capacity, even the descendants of the family will stand aside and let others do it. Applying this method is difficult at first, then it is very easy. Up to now, I see that AMACCAO is no longer a family company but it is actually an AMACCAO family because everyone who comes here is also a member of the AMACCAO family.
What is the percentage of Mr. To Nhat's relatives at AMACCAO today?
The company has nearly 4,000 employees, so where do you get so many relatives of Mr. To Nhat? (Laugh). I also don't count To people, because in my hometown there are many To people, and there are many To work in AMACCAO. There are many children and grandchildren in my family, but there are not many working in my company. The children are now very independent and do not rely on their relatives much.
And my or my brother's point of view is also clear. Our children can go out and work freely, if they are good, they will go back to managing their father's company. But don't think "surely". To take over is to be able to lead, and continue on the way up.
Working with relatives, have you ever had a conflict with them?
Yes. My wife just graduated from school to work as a chief accountant. I am the CEO. There's a lot of pressure, when the accountant makes a mistake, I also react quickly. So much so that when my wife moved out to work, and later when she returned to the company to work, everything was different, and realized I was right. As for brothers and sisters, as I said above, the real thing is always that my sister cries a lot because she is angry with her brothers.
Or when I work with the Chairman of the Board of Directors, there are times when I react strongly. After he called me into the room, he said directly that if the comment is correct, the Chairman must also listen but need to speak normally, without bringing strong emotions into the work. That, I think is right.
Everyone is human, so it is inevitable to bring emotions in. Other views are sometimes also present, but still in principle for the common good of the company. To tell the truth, I and AMACCAO's Chairman have times when my views are so different that I have to defend 4-5 years for my views to be implemented. For example, there must be a specialized independent Supervisory Board. At first, he did not agree but wanted the Supervisory Board to be part-time. But later, with the strong development of AMACCAO as well as exporting to major markets, it is necessary to have a specialized independent Supervisory Board.
Self-reliant enterprise prosperous nation
Returning to the story of AMACCAO, I saw that he shared above that 2020 was such a difficult year, but the company still grew by double digits. So this year, up to now, how is the growth?
So far, the growth figure is over 30%, much better than in 2020. AMACCAO's full-year target of 25%, has now been exceeded. Fortunately, our brand in recent years has been quite good. Customers keep introducing each other, so the order keeps increasing. Good products of European quality, wide system, good brand, when sold, the scale is large, so the cost is saved, depreciation on each product is good, the selling price is very competitive. I often say it funny that many investors initially give themselves the cup, then the kettle, after the tray. This, for us, is very happy!
Do AMACCAO leaders intend to put the company on the stock exchange?
Sure we have. To be sustainable, it is also necessary to put stocks on the floor but one must choose the right time. As of now, we have not decided on the exact time, but the future is certain.
In the past, he did not follow pedagogy because he wanted to do business. Then when he did well in the economy, he returned to work as an educator. To be honest, does Mr. To Nhat think he's rich enough now?
I don't know what people define as rich. But now I feel happy, happy, and comfortable with life. I'm not showing it off, but it's true that right now what I'm feeling is comfort, and realizing both my dreams of being an entrepreneur and an educator. Then what else is there? Of course I still mainly run the business, spending 80% of my time on this. But the remaining 20% ​​I can still use to share and dedicate the values, knowledge learned, and experiences to the business community and young businesses. So glad.
On the topic of dreams, I see many businesses setting a strategy for 2045 to connect with the orientation of making Vietnam strong, what about AMACCAO?
Honestly, when starting a business, no one can think of it as it is today. On that day, my brother also determined how to live, be rich, to develop.
When the company has existed and developed for 10 years, AMACCAO thought of reaching out from the suburbs to the capital, covering the provinces, and gradually moving to the export market.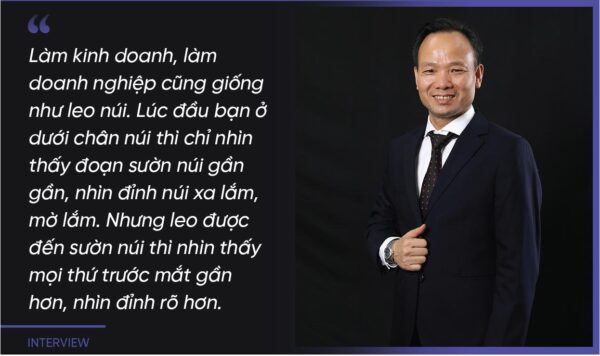 Doing business, doing business is like climbing a mountain. At first, when you are at the foot of the mountain, you can only see the mountainside near and near, and the top of the mountain is very far away. But by climbing to the side of the mountain, you can see everything in front of you closer, and see the top more clearly.
AMACCAO's vision is the same, we don't dare say it's great or anything, but we keep doing well every day, every month, and every year. First of all, we are determined to be the top company in the industry we choose. In fact, AMACCAO has done it, for example, ranked No. 1 in the North, top 2 in Vietnam in terms of concrete culverts and piles, or top 3 in the country in terms of concrete structures, 1 in 3 top units in plastic pipes for EuroPipe brand, is the only company that provides products with 30 years warranty…
If enterprises are self-sufficient, the country will prosper. I always thought so.