(Dan Tri) – Having financial capacity, but instead of investing in "hot" industries that are easy to make money, AMACCAO chooses the direction of sustainable development, strives to create new products with outstanding quality, with the goal of conquer domestic and international customers.
Choose serious labor, sweat on construction sites, factories
Starting as a company specializing in construction and installation, possessing leading technology and systems of construction machinery and equipment, supported by a team of highly qualified foreign experts, AMACCAO quickly built its name. in the construction industry. More than 10 years after its establishment, AMACCAO has become a partner of many large construction investors in Vietnam, regularly being in the group of the 5 most prestigious contractors selected for large and key projects.
The year 2005 marked a strong transformation of this group when it had a strong financial background. At the same time as AMACCAO expanded its business from the foundation of a construction company, many other companies chose to become real estate investors, because this is a "hot" industry that is easy to make money but decided to make money. AMACCAO's decision at that time was very special, it can be said that it went against the trend of the majority by moving capacity into the industrial production segment, which focused on developing new materials and new solutions and technologies.
This is not an easy path, with many challenges due to large initial investment capital, modern technology, and techniques. With 16 factories built, AMACCAO has to invest hundreds of millions of USD for a system of machinery and equipment completely imported from Europe, in which, technology from Germany, England, and Italy…
To ensure operation, the group not only invests in imported materials, and supporting robots, but also has a team of leading European experts to eat, live and work together at each factory. From the production of plastic pipes, concrete pile culverts, electrical equipment, and faucets to drinks…, AMACCAO all aims to achieve world-standard quality, on par with the most developed countries, and therefore also self-made. pressure to compete with international giants in each industry.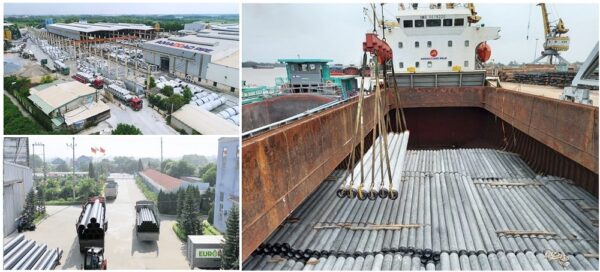 It is not difficult to see convoys of container trucks carrying plastic pipes, culverts, piles, concrete structures… brand AMACCAO on the way to construction sites. AMACCAO's products have been featured in 5-star projects, special projects such as subways, airports, seaports, and elevated railways… and in the list of million USD export products of Vietnam.
With a methodical investment process, Europipe is in the top 3 largest plastic pipe and accessory factories in Vietnam, becoming a familiar brand with domestic and foreign investors, and contractors, and is the leading product in the market. a key part of AMACCAO's local export strategy. Thanks to the production capacity of up to 1,000m2 doors/day for each category, NovoDoor was born later but quickly found a foothold in the Vietnamese fire door market.
As the pioneering innovation representative of AMACCAO, Vonta made a mark when achieving double-digit growth over the past several years, guaranteeing quality for major investors and contractors in Vietnam. , towards outsourcing production for major brands in the world. Meanwhile, with a rare 12m-long corrugated iron factory in Vietnam, Vonta Lamppost brings quality to important urban and traffic projects.
Having the opportunity to witness with his own eyes each production stage in AMACCAO's factory, Mr. Le Vinh Son – Chairman of Son Ha Group and Chairman of HAMI Association shared, advanced machinery, equipment, and technology, are imported from countries with high technology, producing products that create peace of mind for partners and consumers. AMACCAO will go further in its journey… With Vietnamese wisdom along with excellent business strategy and a good management system, AMACCAO will continue to create good products of international stature.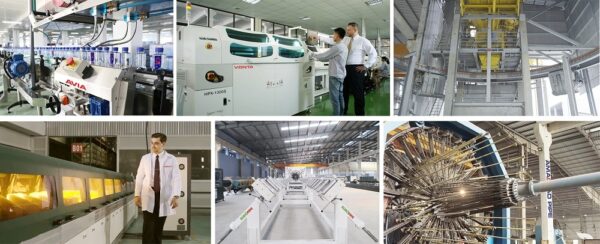 Efforts worth billions of dollars
In addition to efforts to build factories to expand business during nearly 30 years of establishment and development, AMACCAO also shows its steadfast strength in any circumstances, despite difficulties amidst the fluctuations of the company. The world economy or epidemics, natural disasters, and the production lines of AMACCAO factories have never been interrupted. The investment capital for the ecosystem reaches hundreds of millions of dollars, but the efforts and determination of thousands of employees, experts, and leaders of AMACCAO are probably worth billions of dollars because even quietly, they are always enthusiastic every day to not interrupt production, create and improve technology level, said the representative of the business.
The Group aims to bring the highest quality to each product by bringing the best experts, bringing the best technology from abroad, at a reasonable price, so that more and more Vietnamese people can use and benefit from the creations of Vietnamese people in their homeland.
"Not putting its own business problem first, AMACCAO always calculates to bring a total solution for a project, a work, so that no partner has to unilaterally bear the loss despite the cost. production fluctuates abnormally," the business representative shared. The Group also focuses on finding solutions for the green energy and renewable energy industries with a series of wind power projects, waste treatment with modern technology, etc., areas where technological and financial barriers exist. key, and project deadlines can easily frustrate investors.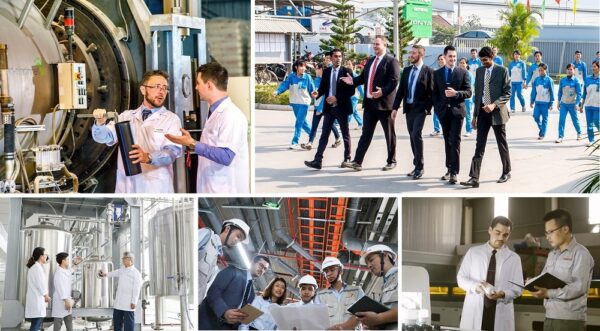 In addition to the leadership's capacity, the efforts of the personnel, and the success of the business, it is also in the core values ​​that have been shaped since the early days of establishment, based on three main spearheads including intelligence, people, and will. . Honest, passionate, dedicated, and simple people carry in themselves the will to work persistently, resiliently, and determined to overcome all difficulties and challenges. The intellectual power created by learning the latest things, learning from the latest technology, learning from the top, and the spirit of non-stop trying have created a united, strong, and sustainable team.
Maintaining, developing, and expanding an ecosystem with more than 20 companies and factories of AMACCAO Group requires hard work, diligence, seriousness, and discipline. "The Group's efforts are like a response to the call of the President of the National Assembly when asking Vietnamese entrepreneurs and businesses to make efforts to promote the national spirit, build strategic visions, bravery, and breakthrough thinking. dare to think, dare to do, dare to innovate, nurture great ambitions and aspiration to rise up, contributing to building a fast-growing, sustainable economy and improving the self-reliance and self-reliance of the economy". AMACCAO leader said.
With AMACCAO, silently dedicating, contributing to the prosperity of the country, and confidently standing shoulder to shoulder with the world's big brands is not only a guideline for every action but also creates a precious genome in each and every action. individual, each department, and each company of the group. That genome will help AMACCAO conquer new heights on a path that is not easy to go, with many challenges but full of roses for those who make efforts, according to a business representative.